Quite simply, we provide a ROCK SOLID and reliable conferencing solution at 1/10th the price of our competition! MyOwnMeeting is a dynamic and powerful conferencing provider. Our unbeatable Price point has made it affordable for any country in the world with an Internet connection.
GoToWebinar
MyOwnMeeting
Unlimited Usage on All Web Conferencing Packages!
100 Attendees
500 Attendees
Webex
It is no longer a service for deep pockets and large companies. We have made it affordable for everyone. Many other conferencing providers charge huge dollars because a third party exists. A third party meaning that the conferencing provider may not own such things as:
Lines of code – Hardware – Servers - Fiber optics - Location (such as a data center)
All of these if they require a third party will cost you more for your conferencing solution. The conference provider must recover the cost so they put the added cost onto you the consumers.
Here at MyOwnMeeting we own everything including the data center. There is absolutely no middle man or third party with our company. It is simply us and our consumers. We take our third party saving and put them directly onto you, our consumers.
We have been providing conferencing solutions for over 8 years. Nowhere in the conferencing arena will you find everything that we offer for such a low monthly fee.
---
Live Stream your Web Conference Directly to Facebook!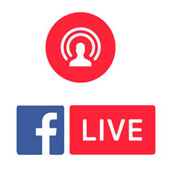 Our web conferencing platform runs In total partnership with Facebook in delivering an outstanding live Stream for you and your business model.
Stream Live to Facebook and increase your Sales, Attendees and Viewership.
For example even if you have 5 people on your webinar your live broadcast can go viral! If those 5 attendees share your live feed, and each one of these 5 attendees has 1000 friends in their friends list. You have a potential of reaching 5000+ viewers.
This incredible ability to Stream live to Facebook via MyOwnMeeting comes as a powerful standard and is included with all our MyOwnMeeting packages!
Increase the potential of your webinar with MyOwnMeeting and the power of Facebook Live Stream Today!